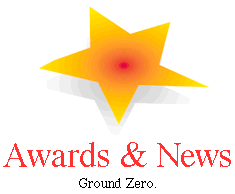 A quick look at recent kudos, critiques and scoops from AtomicWeb:

AtomicWeb's Wings site for the US Postal Service was recently named "Best Fed on the Web", February 27, 1997 issue of Government Executive Magazine. Government Executive magazine thinks WINGS and the following listed sites are the best 10 federal sites on the Internet, for one or more of the following reasons: They provide excellent customer service to the public by having a well-designed site and a large amount of useful information for the public, or by performing part of their duties online. They provide information important to federal employees. They offer an especially friendly user interface or make use of new technologies that other federal sites should consider emulating.

WINGS Wins IOSS Management of Change Award. WINGS has been selected to receive an Intergovernmental Open System Solutions (IOSS) Award from the Federation of Government Information Processing Councils (FGIPC). WINGS will receive the award on May 13th at the FGIPC XVII Annual Management of Change Awards Conference in Orlando, Florida.

WINGS honoed for Business Excellence on the Web by CIO's WebMaster Magazine Framingham, MA -- September 15, 1997 -- The U.S. Postal Service's WINGS site is among the top 100 Internet and intranet sites, according to WebMaster magazine. Award- winning sites are featured in the magazine's special August edition, the WebMaster 50/50 issue. The WebMaster 50/50 awards program recognizes innovative Internet and intranet development efforts. The award is given to 50 Internet and 50 intranet sites that use the 'Net to meet overall business objectives. Nearly 900 WebMaster site visitors filled out an electronic ballot at the WebMaster site (www.web-master.com) to nominate a Web environment, a single site or a single application. WebMaster editors judged each nomination based on the following criteria: which organizations use the Web to open new markets, expand existing ones, manage information, and/or maintain cost-effective interactions. According to WebMaster magazine Publisher and Editor in Chief Lew McCreary, "These award winners anticipate and adapt to the flow of the mercurial Web, trying not just to go with it but managing to stay out in front. They most clearly represent the benchmarks, circa 1997, of business excellence on the Web." Vice President Gore's National Performance Review (NPR) challenges agencies that: "The government's primary mission is to provide quality services to the public in a timely manner. However, traditional ways to access government services is cumbersome, uncoordinated, and not customer-friendly." Using information technology improves customer service and refocuses government efforts on the delivery of high quality services to all Americans. WINGS embodies this vision of electronic government services that are: Available 24-hour seven day-a-week, A single place to conduct business with multiple agencies, Enabling electronic commerce with federal, state, and local agencies, and, Ensuring equal access for all people.

Steve's Ant Farm, a fixture on our site, has been recognized by Microsoft in a recent ad, Sony in another recent ad and Wired Magazine. (Check it out, other people have...)

AtomicWeb is pleased to announce the addition of Bill Wickert to the team. Bill is an expert in computer graphics management, training, tech support and system design. He's worked with Phillips Publishing, TechType Graphic Communications and Versources. He'll be a great resource for design, writing and both software and hardware experience.

Copyright © 1998, AtomicWeb. All Rights Reserved.